The Brand
The GNS 1.2  marks the birth of the independent Geneva Watchmaking brand named by the two co-founders GENUS.
It's a World first: a Mechanical elements move seamlessly from one orbit to another AND give information about the time.
Two patents filed
The hour indices revolve around the periphery, pivoting 4 times by 1/4 turn to orient themselves in the reading direction
The tens-of-minutes are shown shown by the lead traveling indicator – named "the Genus" – which moves freely– as it moves freely on the figure 8 center path (infinity, analemma)
The precise minute is shown by the rotating dial in the traditional 3 o'clock position
Case, movement main plate and bridges, and complication module of 18K gold
Entirely manufactured in our independent workshop in Geneva
Conceived, developed and crafted following tradition and to the highest standards of Swiss Haute Horlogerie
Hand decorated and hand finished
Truly a new genus in the world of watchmaking. Its watchword: Freedom.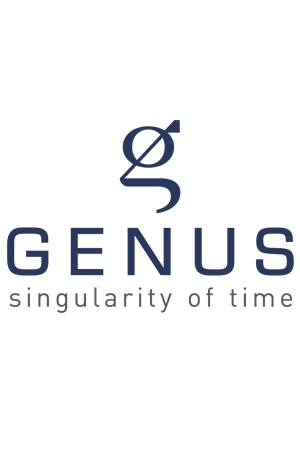 Sustainability
Ethical gold shines brighter
As ever, GENUS remains committed to sustainable development and suppliers are individually selected with environmental and social impact in mind. GENUS is dedicated to promoting the global standards of responsibility for its sector.
The case, movement main plate, bridges, and buckle are made of ethical 18K gold, certified by the Responsible Jewellery Council (RJC).
The leather strap is sourced from a supply chain with certified traceability.